Plastimobile is a mobile workshop that recycles plastics to create new plastic objects. It is an educational tool on plastics recycling as well as a teaching device on science, technology and chemistry. Plastimobile can go anywhere upon the request of teachers or organizers of public events.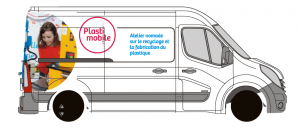 It's a simple, straightforward tool. It can be installed in classrooms, at offices or at expos!
Its scientific and technical attributes can be directly applied to subjects being taught in school:
– a scientific awakening in elementary schools
– an interactive lesson on technology in junior high schools
– a tutorial on organic chemistry in high school
Plastimobile is the ideal creative project that travels all over.